Hello
Pieceful
Quilters,
Many of you are probably fans of Lori Smith (From My Heart to Your Hands). How she continues to come out with so many great patterns is beyond me. I had a chance to chat with her for a few minutes when we were vending at the International Quilt Festival a couple of weeks ago. I asked her if she ever slept. She did divulge that she works a lot, and, since she doesn't have anyone but herself to worry about, she can work at all hours of the night and day. I guess that helps explain - and I thought I was obsessed with quilting!
Anyway, Lori usually has her newest patterns at Quilt Fest - even before we see them at Quilt Market! As usual, she had a few that we fell in love with. Her new format for patterns was two little patterns in one packet. This is a nice size for us, as we don't feel bad about putting the pattern in our kits. The one we decided to kit first is this one: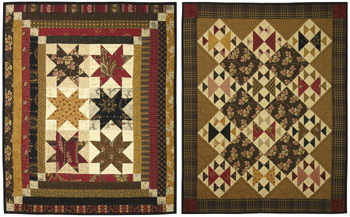 I volunteered to do the one on the left - I am not sure why, since it is a bit harder to
skoonch
with these little quilts, but it is so cute! I tried really hard to be perfect, but still ended up
skoonching
a little to get my corners to match. One of my star blocks ended up looking a little like a bowl! Enter Best Press - the Miracle Liquid. As you can see from the picture below, they all turned out flat as a pancake!
Aren't they cute? Kudos to the
genius who invented Best Press! We just got another order in the shop, but it disappears very quickly! So, since I was taking a picture of the blocks, I thought it would make them look better if I squared them up to trim off all the little threads and raggedy edges. For this I used another one of my favorite tools, the June Taylor (another genius) Shape Cut Ruler. Actually, since these blocks were so small, I was able to use the Quarter Cut Ruler. To make them really nice and even, I lined up one of the slits with the center of my block, and one of the lines with the top of the block. This way you don't end up trimming one side too much and end up with a wonky block. (Another highly technical quilting term) I put a red line down the middle to show you how I lined it up with the "V" of the star points.
I have to admit, some of my blocks were a tiny bit too small, but I am sure a little more

skoonching

and Best Press will take care of that!

Hah

- you aren't getting this kind of quilting information from everyone else!
So - while I am talking about cool tools, and since I am a sucker for patriotic stuff, let me introduce you to the amazing

Quiltsmart

interfacing

. These brilliant designers have come up with a bunch of patterns - or I guess you would call them kits - that make previously difficult patterns easy and accurate by using fusible

interfacing

with the patterns printed on them. There are various ways that they use it, depending on the pattern, but I wanted to show you one I love that we have in the shop right now - visit our Patriotic Corner:
The package has enough interfacing to complete two of the flag quilts. Don't you just love it? While I am talking Patriotic, Katie finally finished the pattern for Uncle Sam, which has been on my "to do" list for quite awhile (don't even think about asking how long - it is too embarrassing!) Thank goodness I have a wonderful daughter that has realized that waiting for me to get things done is sometimes a lost cause. She even made the sample out of our kit:
I don't think she has this one on the website yet, but she has several of our other new kits and patterns, including the Little Nine Patch Doll Quilt that Kathy Tracy designed, Sarah's Stars, and the cute bag we did for the Shop Hop:
I had better get back to work!
Happy Belated Mother's Day - Carrie